Our Silicone Cover for Meta/Oculus Rift S will let you play without worry. Moulded to fit perfectly on the stock facial interface, it shields the foam from sweat, oil and dirt so that your headset stays fresh and clean.
As oiled silicone can cause unwanted skin reactions, we have used high quality medical grade silicone which is unoiled, hypoallergenic and safe on the skin. It feels soft, yet offers a good grip due to the unoiled surface. It also helps to prolong the shelf life of the foam by protecting it from normal wear and tear.
Installation is simple. Just remove the facial interface, slip the cover over it and reinsert the interface in the headset. The non-absorbent material enables quick wipe-downs with anti-bacterial wipes or a microfibre cloth. For a thorough clean, it can also be handwashed with soap and water.
Wipeable, washable and reusable, it is a convenient hygienic solution designed to make your VR experience much more enjoyable.
The set includes:
1 x Silicone Cover for Meta/Oculus Rift S
This item is stocked only at our US and Europe fulfilment centres. If your shipping destination is outside the US and Europe, the shipping fee will be different to what is published on site. To obtain a custom rate, please reach us via the contact form.
---
---
Need some guidance on how to install the Silicone Cover for your Meta/Oculus Rift S? Have a look at our hands-on video.
Features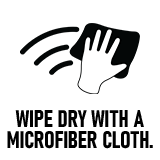 Silicone Cover for Meta Rift S FAQ
We recommend cleaning with alcohol-free antibacterial wipes or handwash with soap and water. Wipe dry with a microfibre cloth.
No, it can't be used together with the cotton cover. You can only fit one cover on the original foam gasket.
Yes, they work well together. Just wipe clean the silicone cover before applying the disposable covers.
Details
Material: High quality medical grade silicone
Care Instructions: Clean with antibacterial wipes or handwash with soap and water. Wipe dry with a microfibre cloth.
We offer two shipping options: Standard and Express. Shipping time vary depending on the destination country, please refer to our dedicated shipping page for more detailed information.
If you're in the US, Standard shipping generally takes 5-7 days if the order is shipped from our US fulfilment centre. For the rest of the world, please refer to our shipping page.
Most orders are processed within 24 hours. European customers may have to wait a little longer as we ship using a batch-ship method.
We accept returns or exchanges only in the case that the product is defective or damaged.