Need some guidance on how to install the Head Strap Foam Pad on your Oculus™ Quest 2? Have a look at our hands-on video.
Features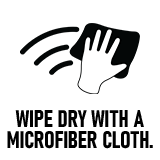 FAQ: Head Strap Foam Pad for Oculus Quest 2
Cleaning and general care
It is designed to be wiped clean with a microfiber cloth. For the best results, we recommend using alcohol-free antibacterial wipes.
Compatibility with different headsets and other products
No, it works only on Oculus Quest 2.
No, this only works with the stock head strap.