Need some guidance on how to install the Silicone Cover on your Meta/Oculus Quest 2? Have a look at our hands-on video.
Features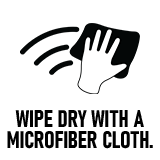 FAQ: Silicone Cover for Meta/Oculus Quest 2
Cleaning and general care
We recommend cleaning with alcohol-free antibacterial wipes or handwash with soap and water. Wipe dry with a microfiber cloth.
Compatibility with different headsets or other VR Cover products